A small circle online Course For CU residents!
Understanding Complications
and Mastering
Peri-implantitis Surgery!
Nikos Mattheos
DDS, MASc, PhD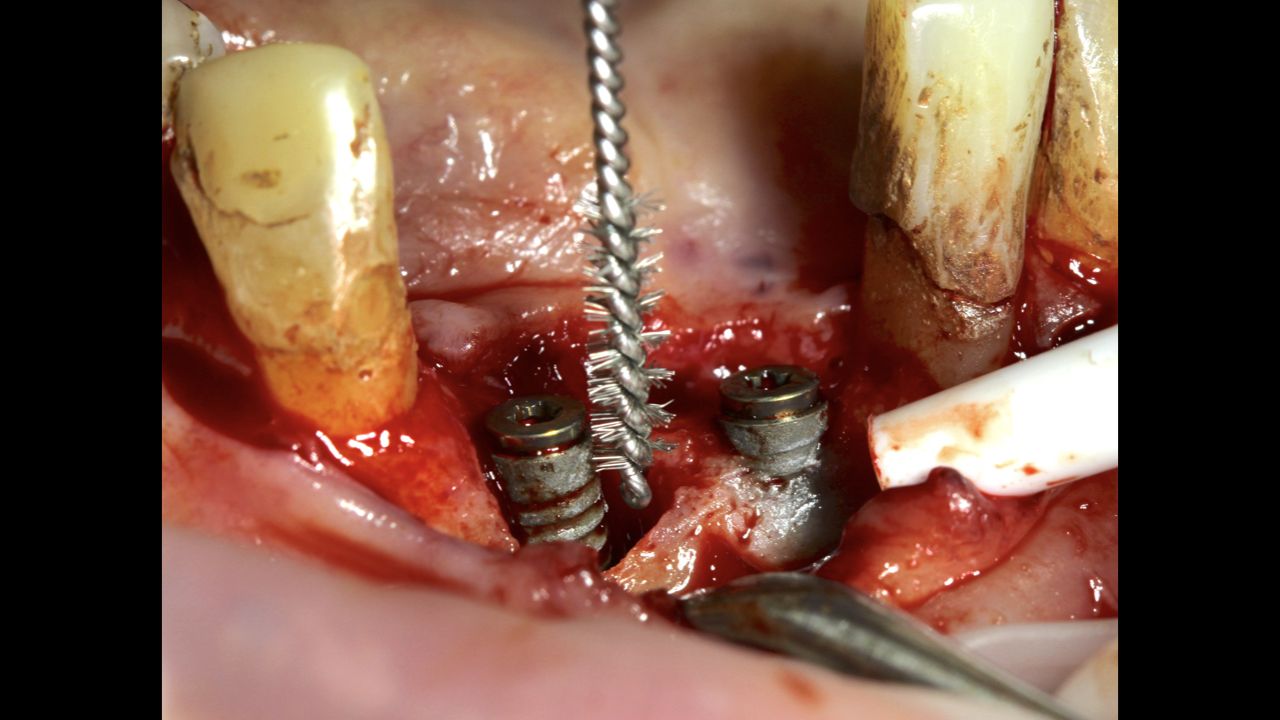 A two week's online course for the residents and postgraduate students of CU attending the clinical seminars 2021.
See the big Picture
Understand the interrelations between Biology and Technology and the common design flaws that predispose to complications!
DIagnose and Plan
Diagnose the complete pathology and problems and devise the individualised treatment strategy to address biological and prosthetic concerns.
Understand. Rehearse. Excel.
learn step by step advanced surgical techniques, resective or regenerative, soft and hard tissue augmentations with autografts and biomaterials.
Individualise your treatment
"read" the peri-implantitis conditions and defect morphology to select the suitable devices and the most effective individualised protocol !
Part 1
Understanding
Implant
Complications
When implant treatments go wrong, the cause of trouble is often hidden and the clinical findings can be misleading!In this first multidisciplinary part we will learn how biological and technical factors interrelate, how to find the real causes of problems and how to design step-by-step the proper management strategies.

The course includes preparatory modules, Videos of step-by-step clinical treatments and by Dr. Nikos Mattheos and Dr. Martin Janda.

What will we learn:
Defining success and failure in Implant Dentistry
Interrelation of Biological and technical Factors
Design features that predispose to complications, emergence profile, Implant Supracrestral Complex
Comprehensive assessment of complications
How to organise maintenance appointments
How to make radiographs of implants
Case definitions, Diagnosis and Pathogenesis of Peri-implant tissue inflammations




Part 2
Mastering
Peri implantitis surgery
This part will focus on Peri-implant tissue inflammations and will discuss the current understanding of diagnosis and aetiopathogenesis. Then we will review step-by-step the current clinical standards and evidence for designing and executing effective surgical interventions for peri-implantitis.

The course includes preparatory modules, Videos of step-by-step clinical treatments and "updater" webinars on the latest evidence and best practices for the surgical treatment of peri-implantitis by Dr. Nikos Mattheos.

What will we learn:
Current evidence on the surgical management of peri-implantitis. Techniques, protocols, devices, success and limitations, healing outcomes.
"
Reading" the Peri-implantitis lesion: decision making and surgical design

Decontaminating implants: current technology and decision making
Flap, incisions design, procedures and suturing
Mechanical Implant decontamination: Labrida brushes, Implantoplasty
Regenerating peri-implantitis defects with Guided Bone Regeneration
Resective surgery and apically repositioned flaps.
feedback by actual completers of the course!
Our online students said about MIC:
"I've done hundreds of hours of different courses but this one is one of the best so far. I can't believe I found it just by accident and nobody recommended it for me. I love it. Thank you!"
DR. ALEKSANDER SROKOSZ, BDS(hons) MPharm
COSMETIC DENTIST
UK
"FROM THE ONSET THIS ONLINE COURSE WAS USER FRIENDLY AND EASY TO MANAGE. THE COURSE IS WELL STRUCTURED, INFORMATIVE AND EDUCATIONAL. BESIDES THE LECTURES, THERE ARE DEMONSTRATIVE VIDEOS AND READING CONTENT YOU CAN REFER TO ANYTIME! YOU CAN ALSO REFER BACK TO ANY SECTION OF THE COURSE AND COMPLETE THE COURSE IN YOUR OWN TIME. I SPECIALLY ENJOYED THE LECTURES BY NIKOS MATTHEOS. THE PERIO CONTENT WAS INTERESTING AND EDUCATIONAL FROM A PROSTHODONTIC PERSPECTIVE. THE LECTURES ARE WELL PRESENTED, OF HIGH QUALITY AND EVIDENCE BASED."
DR. DEON FERREIRA,
PROSTHODONTIST
SOUTH AFRICA
The course is very interesting, updated and well illustrated, Really enjoy it and hope that there is more modules to watch!
DR. AHMED SEHADA,
EGYPT
"This course should be mandatory for those of us who see patients with implants, which we all do nowadays. 😊 Impressive - all you need to know about implant treatments and performed in an instructive and pedagogical way. I really liked the authentic patient cases with questions and the possibilities to send questions to you. Since very short sessions, it is easy to do a chapter whenever time available. A very good course that will improve treatments in my daily practice".
DR. Michaela von Geijer
Private practice,
Sweden